HOW FLEXXCAPE WORKS
The proprietary blend of industrial PVC allows for heavy-duty use and durability while maintaining flexibility and conformity. The patented extrusion process creates irregular, undulating loops that grab sand particles while allowing for proper water flow.
.

our approach

As the manufacturer and marketer of the popular Sandtrapper product line, we took our expertise in geophysical controls and applied them to the seamless bunker liner concept. We focused on maintaining simple handling and installation requirements. We focused on washout control and consistent playability. We focused on maintenance durability.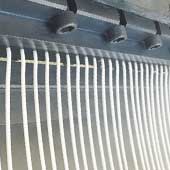 DURABILITY
We started by selecting, testing, and reselecting raw materials and manufacturing settings that would deliver the best combination of performance characteristics.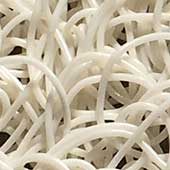 SHAPE
The irregular looping method was analyzed and tested to determine the best shape and pattern to deliver proper water flow and excellent sand adhesion.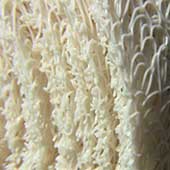 PACKAGING
Product weight and roll size were two important factors.We needed it to be easily handled for installation while sized correctly for freight efficiencies.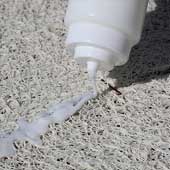 SIMPLICITY
To create the seamless characteristic, we tested a wide range of industrial adhesives and epoxies. We needed a strong, flexible bond and a fast cure time.
SEAMLESS BUNKER PROTECTION
---
As a premium bunker liner solution, Flexxcape takes the seamless bunker liner concept to the next level. As a ultra-premium option, Flexxcape is designed to outperform bunker hardscapes while offering an extremely simple, hassle-free installation method that anyone can perform. Between the bunker sand and base, Flexxcape resists compaction and maintains proper open space for water to drain fast. Instead of defining an elevated perch-table to stabilize sand, the irregular loops and undulating surface of Flexxcape provides extreme sand-grabbing capabilities and prevents washouts.

At approximately one pound per square foot, Flexxcape is heavy and stable. The proprietary PVC blend gives it the right flexibility to combat extreme environments. One in place, it maintains it flexibility and will conform effortlessly during repetitive freeze/thaw cycles.

Low maintenance bunkers don't have to be elusive. With a well-researched plan and the best product solutions, facilities can, in fact, have bulletproof bunkers. Additionally, this objective does not have to kill your budget or force your improvement schedule into chaos. Twenty years ago, we launched Sandtrapper in what was an industry void of a Bunker Management category. We've seen companies come and go since then.

We've seen all manner of solutions. In the end, it is about providing products that work and doing so at the right price-point. When it matters, it is about reliability in product, service, and logistics — from a trusted industry partner.
GET THE SPECS